Who commits fraud?
Fraud is estimated to be costing the South Australian Return to Work scheme in excess of $25 million a year, potentially driving up insurance premiums for employers doing the right thing.
Our investigations show that labour hire fraud is committed by people from all walks of life, not just hardened criminals. In order to identify and prosecute these people, we work hard to identify the factors that drive an otherwise law abiding person to commit fraud.
One of the models commonly used to explain the factors that make fraud likely is The Fraud Triangle developed by Criminologist Donald Cressey.
In a labour hire context, fraudsters often experience legitimate financial pressures or a desire to maintain a certain quality of life [PRESSURE], run their own businesses with limited internal governance or controls [OPPORTUNITY] and rationalise their fraudulent activity by saying:
I'm giving jobs to people who might not otherwise have them
I'm paying more than what they might get in their home country [RATIONALISATION].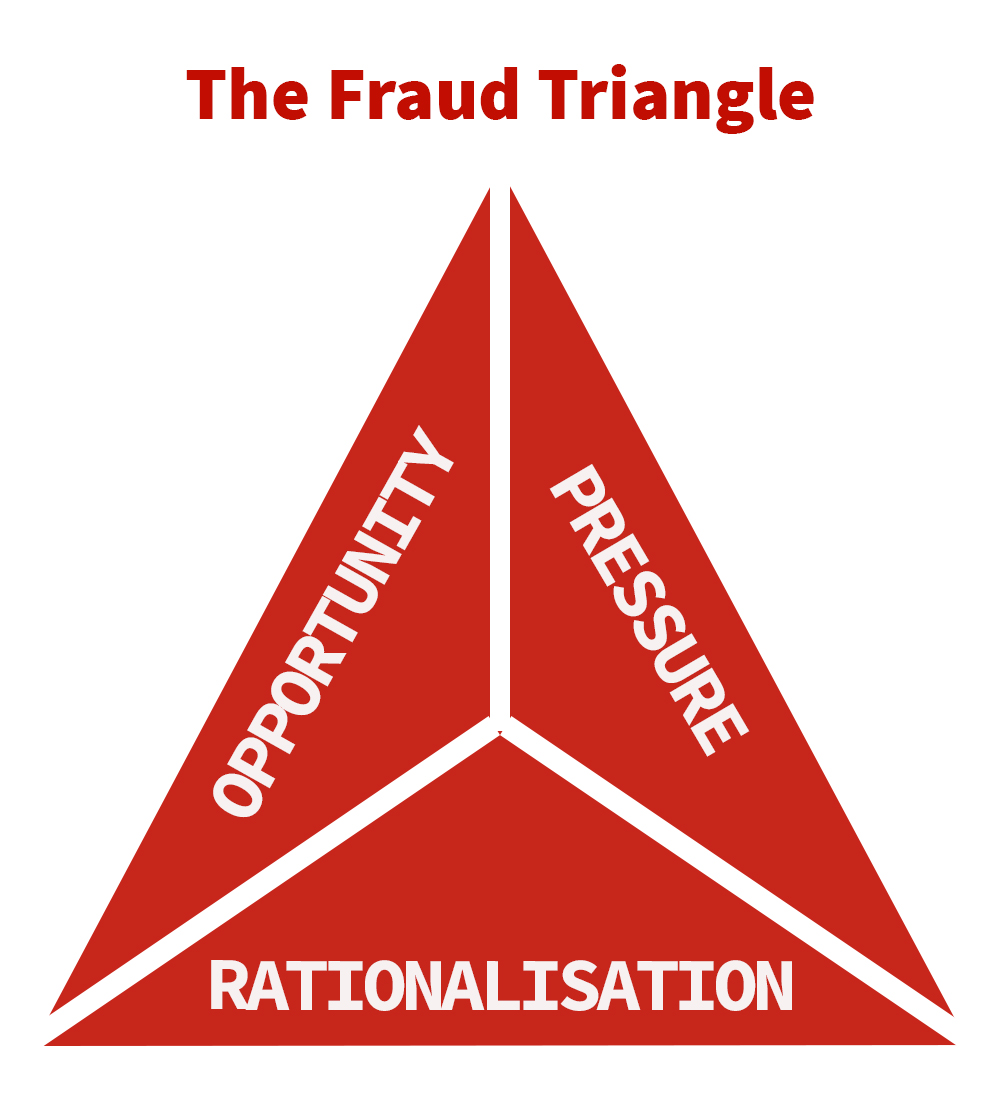 How to identify a fraudster
Labour hire fraudsters are often brazen leaving behind visible clues of their illegal activity including:
seriously discounted rates compared to other contractors
discrepancies in employer remuneration statements
multi-layered contracting and subcontracting
repeated insolvencies and changing business names indicating possible illegal phoenix activity
requests for cash payments
business owners and company directors enjoying lifestyles that appear to exceed their income.
Due diligence measures you might use if considering using a labour hire company include:
checking their insurance status via our employer lookup tool
checking they are registered with a valid ABN
checking the company is currently registered with ASIC
looking out for unrealistic labour quotes that don't reflect proper wages, remembering that a labour hire company is required to pay on costs just like any other employer
asking for references
finding out if the directors or managers have been operating multiple successive labour hire companies
completing a credit check
looking for adverse media reports online.
Report fraud
If you suspect that a company is employing workers fraudulently, you can make a tip-off by calling 13 18 55, emailing investigationunit@rtwsa.com or by completing our online fraud referral form. You can remain anonymous.
Tip-offs from the public complement our existing intelligence gathering and surveillance work, and in the past 12 months this has resulted in 90+ investigations and compliance audits on a further 500+ host employers. We have also uncovered $53.3m of under-declared remuneration to-date and expect this figure to increase as further audits are conducted and intelligence is gathered.
We also liaise with other workers compensation authorities to uncover employers working across multiple jurisdictions who are suspected of sham contracting or dubious labour hire practices.
Investigating and prosecuting fraud is core to our business and if you are doing the wrong thing, you will be caught.
The maximum penalty for a person knowingly making a dishonest insurance application or remuneration return to ReturnToWorkSA is a $50,000 fine or imprisonment for two years. It is also an offence if you aid, abet, counsel, procure, solicit or incite a dishonesty offence and the maximum penalty if found guilty is a $10,000 fine or imprisonment for one year.