'Be a Safety Champion' this National Safe Work Month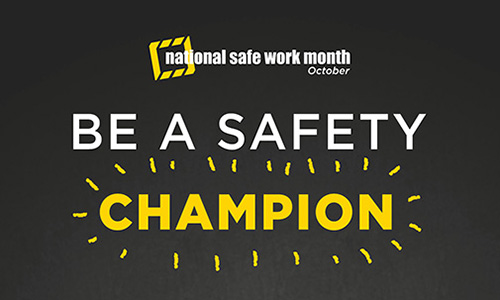 (1 October 2019) This National Safe Work Month we ask you to 'Be a Safety Champion' and commit to building safe and healthy workplaces.
How can you 'Be a Safety Champion'?
Everyone has the right to be safe at work. It doesn't matter what your role is, we can all 'Be a Safety Champion' and contribute to building safe and healthy workplaces.
Be passionate about safety
Follow safe work practices, policies and procedures
Lead by example
Raise safety concerns
Look out for others
Encourage others to 'Be a Safety Champion'
You can also bring safety to the forefront at your workplace this October and get your organisation involved in National Safe Work Month.
---
Organise a workplace activity this October for a chance to win!
Events can be fun and informal like a safety quiz or safety-themed morning tea. You could also conduct a workplace safety inspection, toolbox talk or team training session about safety.
Plus, if you register your event with SafeWork SA you'll be in the running to win a prize valued up to $500 from a range of South Australian products!
---
Promote National Safe Work Month
A range of promotional materials are available to help you take part in this year's National Safe Work Month. Show how you are a safety champion at your workplace and promote and foster a positive work health and safety culture.
---
Assess your current health and safety practices
Our new 'Simple steps to safety' self-audit tool is designed to help you assess your current health and safety practices.It will help you to identify any areas which you can improve and create an action plan.
---
Attend From the Ground Up, a free breakfast for construction workers and tradies
This World Mental Health Day (10 October) join us for breakfast and help your workmates with their mental health.
Construction workers and tradies are more likely to die by suicide than by a workplace accident.
Our guest speaker is ex-SAS Special Ops engineer and mental health advocate Nathan Bolton. He will be joined by John Mannion from Breakthrough Mental Health Research Foundation and representatives from Hansen and Yuncken, Mates in Construction, ReturnToWorkSA and SafeWork SA.
Join us to hear about how we can overcome mental health challenges on our construction sites, what your peers are doing to create change and where you can get help.
Thursday 10 October
7.30am-10:00am
Civil Contractors Federation, 1 South Road, Thebarton
---
Need help with workplace health and safety?
ReturnToWorkSA
Our specialised mentally healthy workplaces consultant can help you to identify and reduce risk factors to mental health in your workplace and work with you to provide practical support, advice and resources.
Our injury prevention team works with businesses that experience higher claims costs or higher rates of work injuries when compared to other businesses in their industry to help them identify, analyse and manage their work injury risks.
Our return to work coordinator support service is available at no cost and provides tailored advice to help return to work coordinators successfully perform the role within their business.
SafeWork SA
WHS advisors can visit your workplace to help you understand your work health and safety responsibilities as well as provide practical support to improve your systems, practices and general approach to safety.